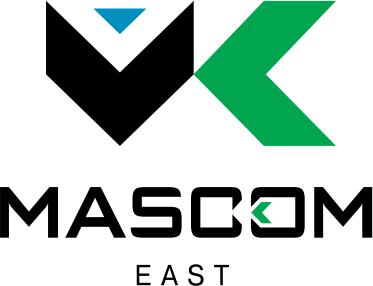 FAR EAST
Since the founding of the "MASCOM" Far East Specialized Center for Information Security in 2006, the MASCOM Group of companies has undertaken to create a competence center in the Far East.
Over the 10 years of its existence, the Far East Center has grown into the multi-profiled holding company MASCOM East and has become a leader in the far-east market for the design and construction of specialized high-technology buildings and structures, the creation of integrated information and telecommunications infrastructure systems, and information and physical security. It has successfully performed hundreds of complex, multi-phased projects.
Seven production units form the basis of the holding company. They are located geographically in the cities of Khabarovsk, Blagoveshchensk, Vladivostok and Novosibirsk, possess state-of-the-art technology and equipment, and have highly-qualified engineering and technical staff. They are managed by the single structure OOO "MASCOM East".
Each member in the Holding Company conducts its business in accordance with required licenses and certificates from the competent government authorities. A basic factor in the successful activities and development of such a multi-profiled business are the fundamental principles it is based on – all members of the Holding Company are divided into two categories: key competency centers and territorial companies.
Key competence centers have been created precisely in those basic business areas where they have acquired the greatest experience and knowledge, where there exists an intellectual and production base for further development, and the trained engineering and technical staff are the most competent in their sector not only within the Holding Company, but on the Far East market as a whole.
There are four such centers in the Holding Company. They are located in the city of Khabarovsk, which permits them to work successfully, giving due consideration to the logistics component, in any area of the Far East and Siberia:
OOO "DSTsBI MASCOM" is a competence center providing information security and protecting state secrets;
OOO "MASCOM-Techline" is a competence center for systems integration, the creation of automated information and telecommunications systems, closed and open communications systems and sites, as well as the provision of an entire range of services for protected electronic document flow using qualified electronic signatures through our Verification Center and Registration Center;
OOO "MASCOM-Instroy" is a competence center for the design and capital construction of special buildings and secure sites, as well as the creation of integrated systems for technical and physical security;
OOO "Standard Telecom" is a competence center for the design, creation, use and technical support of information and navigational systems (GLONASS/GPS) at different levels, as well as their structure, integration, and specialized information and telecommunications systems.
There are three territorial centers in the Holding Company. They are multi-profiled companies and precisely territorial, not regional. Located in the most rapidly developing regions, possessing a sufficient level of basic expertise and having access to the entire range of MASCOM East's capabilities for large-scale implementing projects, they function both in their own and in neighboring regions:
OOO "MASCOM-Primorye", Vladivostok;
OOO "MASCOM-AMUR", Blagoveshchensk;
OOO "MASCOM-Siberia", Novosibirsk.
Web sites:
http://mascom-vostok.ru
http://mascomvl.ru